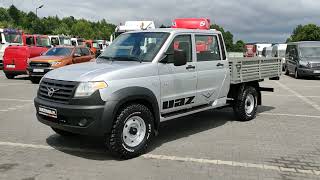 1/42
Location
Poland
Nowa Huta
Cabin
Cruise control (tempomat)
Buy by leasing
Get an offer to buy a vehicle by leasing
Need delivery?
Calculate the cost of delivery
kolor: silver
przepracowane:
marka: uaz
- UAZ PROFI 4x4 DOKA Do 3.5TONY !!!
Na Prawo jazdy KAT B !!! Ład-1315KG !!!
Benzyna + LPG poj. silnika : 2.700 o mocy 150KM
Zakupiony w Polskim Salonie
U Autoryzowanego Przedstawiciela danej MARKI
Od nowości jeden właściciel
NA bieżąco serwisowany
Super zadbany w pełni sprawny
Napęd 4x4 - Idealnie spisuje się w terenie
Pojemność silnika 2.700 Benzyna + LPG
Moc 150 Koni Mechanicznych
Pierwsza rejestracja: 09.11.2018
Ład : 1315kg
Zabudowa : Skrzynia+dodaję stelaż z plandeką nigdy nie używany !!!
wymiaray: 235cm x 87cm x wys.burt-40cm
wyposażenie
Immobilaiser
Elektryczne i podgrzewane lusterka
Samochód Charakteryzuje się prostą konstrukcją
Zabudowany na pełne ramie
Zawieszenie przód i tył resor
Duży prześwit - Rozmiar Kół LT265/75/R16
Przez co Bardzo Dobrze radzi sobie w ciężkich Warunkach Terenowych
Nie posiada zbędnej elektroniki !!!
Tani wytrzymały i prosty w eksploatacji !!!
Do tej pory użytkowany był w większości na długi trasach
Link do Filmu :
show contacts
- WSZELKIE DODATKOWE INFORMACJE UZYSKACIE PAŃSTWO POD NR TELEFONU
show contacts
tel/ WhatsApp
show contacts
tel/ WhatsApp
Biuro -
show contacts
Biuro(małpa)duetduda.pl
Pełna oferta na : duetduda.pl
MOŻLIWOŚĆ SFINANSOWANIA POJAZDU
Za pomocą leasingu lub kredytu
Szybka decyzja leasingowa / kredytowa
Indywidualne podejście do każdego klienta !!!
Posiadamy autoryzacje w największych Firmach leasingowych
W związku z czym nie są wymagane wyceny rzeczoznawcy
A cały proces kredytu lub leasingu przebiega dużo szybciej
Zapraszamy i prosimy przed przybyciem o potwierdzenie aktualności oferty
Poniedziałek - Piątek w godz. 8.00 - 17.00
Sobota w godz. 8.00 - 15.00
Inne godziny oraz Niedziela po wcześniejszym umówieniu telefonicznym
Przedstawione dane maja charakter informacyjny
nie stanowią oferty w rozumieniu artykułu 66 k.c
Sprzedający nie odpowiada za ewentualne błędy lub nieaktualności ogłoszenia.
Dodatkowe informacje: liczba miejsc: 5
Numer oferty: AKL3GQTY
Faktura VAT
Zarejestrowany w Polsce
Pierwszy właściciel
Bezwypadkowy
PROFI Benzyna/Gaz 4x4 DOKA Pick-up UNIKAT !!! Ład.1315KG MASSIF DAILY
Important
This offer is for guidance only. Please request more precise information from the seller.
Safety tips
Seller's contacts
GRZEGORZ DUDA
Languages:
English, Polish
Languages:
English, Russian, Polish
Poland, Malopolskie, Nowa Huta
Seller's local time: 03:09 am (CEST)
Selling machinery or vehicles?
You can do it with us!