The ad MAN TGB 12.280 4x2 car transporter for sale by auction has been sold and is not included in the search!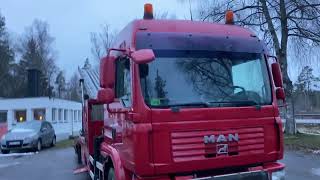 1/16
Location
Sweden
Placed on
more than 1 month
Model: TGB 12.280 4x2.
Year model: 2007.
Power: 206 Kw.
Euro 4.
Mileage: 33,000 miles.
Automatic.
Extendable ramp.
Hydraulic upper ramp.
Fassi faucet.
4 extenders, reach: 10 meters.
Radio control.

Seller's Comment:
Truck in good working condition.
Warning light on panel, not troubleshooting.
Modell: TGB 12.280 4x2.
Baujahr: 2007.
Leistung: 206 kW.
Euro 4.
Laufleistung: 33.000 Meilen.
Automatisch.
Ausziehbare Rampe.
Hydraulische obere Rampe.
Fassi-Wasserhahn.
4 Extender, Reichweite: 10 Meter.
Radio Kontrolle.

Kommentar des Verkäufers:
LKW in gutem Zustand.
Warnlicht auf dem Bedienfeld, keine Fehlerbehebung.
Mudel: TGB 12.280 4x2.
Aasta mudel: 2007.
Võimsus: 206 Kw.
4 eurot.
Läbisõit: 33 000 miili.
Automaatne.
Pikendatav kaldtee.
Hüdrauliline ülemine kaldtee.
Fassi segisti.
4 pikendust, ulatus: 10 meetrit.
Raadio juhtimine.

Müüja kommentaar:
Heas töökorras veok.
Hoiatustuli paneelil, mitte veaotsing.
Modelis: TGB 12.280 4x2.
Metų modelis: 2007 m.
Galia: 206 Kw.
4 eurai.
Rida: 33 000 mylių.
Automatinis.
Ištraukiama rampa.
Hidraulinė viršutinė rampa.
Fassi maišytuvas.
4 ilgintuvai, pasiekiamumas: 10 metrų.
Radijo valdymas.

Pardavėjo komentaras:
Gerai veikiantis sunkvežimis.
Įspėjamoji lemputė skydelyje, o ne trikčių šalinimas.
Modelis: TGB 12.280 4x2.
Izlaiduma gads: 2007.
Jauda: 206 Kw.
4 eiro.
Nobraukums: 33 000 jūdzes.
Automātiski.
Pagarināma rampa.
Hidrauliskā augšējā rampa.
Fassi jaucējkrāns.
4 pagarinātāji, sasniedzamība: 10 metri.
Radio vadība.

Pārdevēja komentārs:
Kravas automašīna labā darba kārtībā.
Brīdinājuma gaisma uz paneļa, nevis traucējummeklēšana.
Model: TGB 12.280 4x2.
Rok modelu: 2007.
Moc: 206 Kw.
Euro 4.
Przebieg: 33 000 mil.
Automatyczny.
Wysuwana rampa.
Hydrauliczna rampa górna.
kran Fassi.
4 przedłużacze, zasięg: 10 metrów.
Sterowanie radiowe.

Komentarz sprzedawcy:
Ciężarówka sprawna.
Lampka ostrzegawcza na panelu, brak rozwiązywania problemów.
Modell: TGB 12.280 4x2.
Årsmodell: 2007.
Effekt: 206 Kw.
Euro 4.
Miltal: 33000 mil.
Automat.
Utskjutbar ramp.
Hydraulisk övre ramp.
Fassi kran.
4 stycken utskjut, räckvidd: 10 meter.
Radiostyrning.

Säljarens kommentar:
Lastbil i gott fungerande skick.
Varningslampa tänd på panel, ej felsökt.